Firearms Ohio......Gun Auction & Appraisal Experts

Firearms Ohio is the gun related branch of Farnsworth Auctions LLC, which is a licensed federal firearms dealer and a very highly respected auction company in Northeast Ohio. Through our auction and appraisal divisions, we appraise and/or sell hundreds of guns each year.

With over 50 years of combined experience in the appraisal and marketing of firearms, we have all the tools and experience necessary to professionally determine the value of your guns and convert those guns into CASH IN YOUR POCKET.

Whether you are looking to sell a few guns to raise some quick cash or wanting to liquidate an entire collection, or if you simply want to know what your firearms are worth before you make the decision to keep or sell them, we are ready and able to help.

We are professional auctioneers and appraisers, and we know guns! Please take a moment to browse around our site to get an idea about everything that we can do to serve you.

---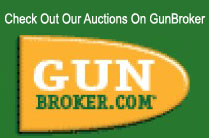 ---
Firearms Ohio - Medina, Ohio - Phone: (330) 334-3731 - Email: russ@firearmsohio.com
---